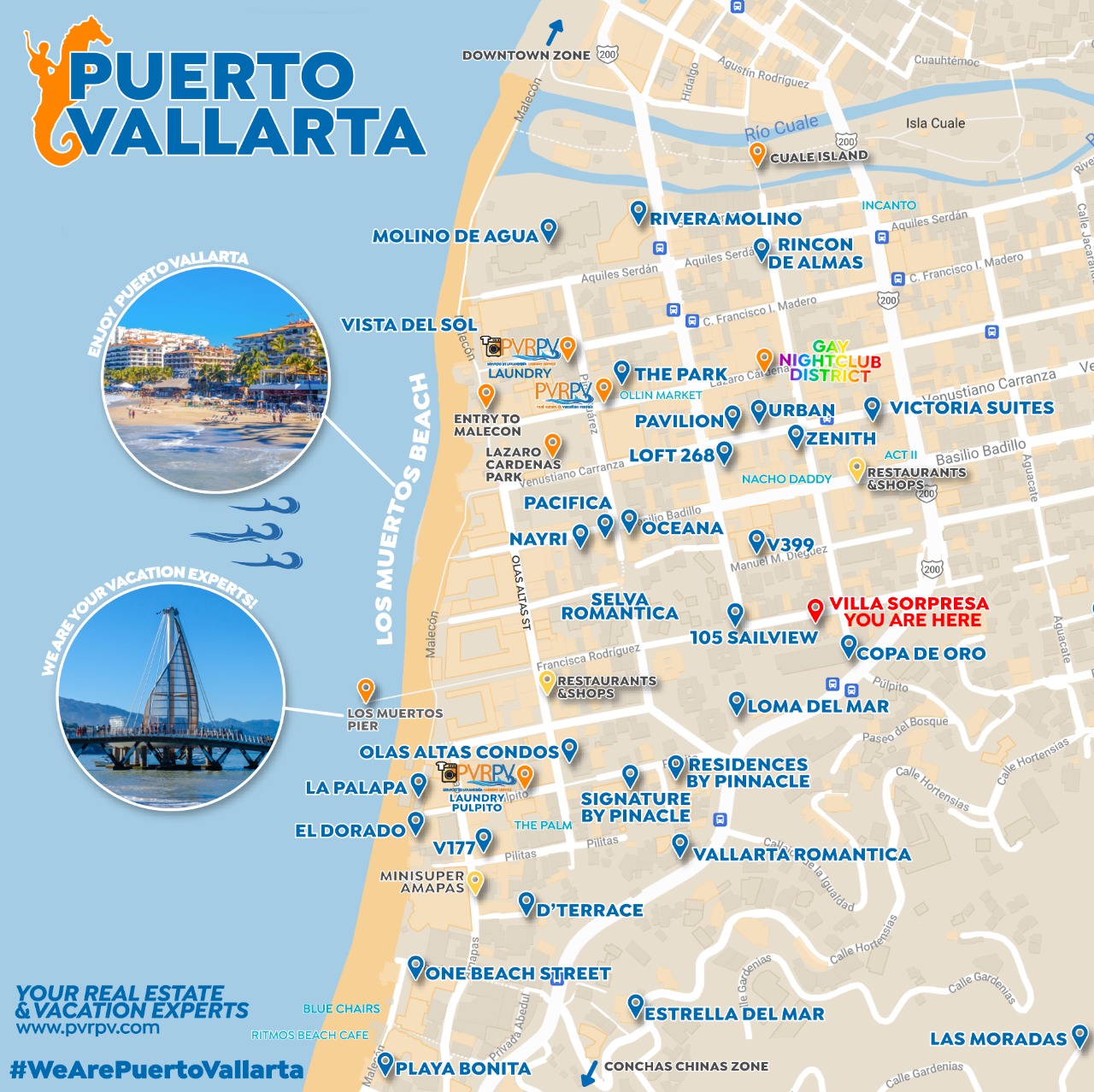 Sorry the property do not have video
About Villa Sorpresa Unit 3
THE LOCATION
PVRPV proudly presents Villa Sorpresa Unit 3, a completely remodeled studio. Nestled just a few streets up from Olas Altas and around the corner Basillio Badillo in Old Town of Puerto Vallarta. A short 5-minute walk from the famous Playa Los Muertos beach. Short stroll to all of bars, restaurants, art galleries, coffee shops, local shops and nightlife that the south side of Vallarta has to offer.

THE CONDO
This lovely studio is beautifully furnished is a blend of modern and Mexican hacienda style. Equipped with a junior kitchen is has all the basics (and more) for a short or long stay. It includes a refrigerator with filtered water, a gas cooktop with oven, microwave, blender, pans to cook, dishes, glassware and even a coffee maker. Additionally, wireless internet and central air conditioning.

Villa Sorpresa Unit 3 has one king-size bed, a comfortable sitting area, a flat screen television with live streaming English channels trough Amazon fire tv, wardrobe for your clothes, a safe to store your valuables.

Additionally, this unit has it own brand new, air conditioning and the latest in technology wireless internet that works throughout the Villa Sorpresa complex. You can relax on your private terrace, or by the pool scroll your favorite websites or write an email to your friends back home.

NEW POOL & TERRACE
This property is a perfect place to relax and enjoy the beautiful grounds with a brand new pool, lounge area and common area with BBQ and dining area.

Enjoy the tranquil place This will be a home away from home in Vallarta. This property offers everything you will need to have a worry free vacation in Puerto Vallarta, Mexico.

If you are missing anything simply ask and within a few minutes our staff will have it there for you. We are here to ensure that your vacation is perfect.

Don't wait any longer, contact one of the experts at PVRPV today and allow us to help you secure your next escapade in paradise.
---
****************** Additional Notes ***********************
Puerto Vallarta Lifestyle
Please note Old Town/Zona Romantica is a relatively busy area within the city of Puerto Vallarta. You are in close proximity to city bus routes that offer daily service from 6 a.m. until 11 p.m., which provide easy access to downtown destinations and the surrounding areas. You are also in easy walking distance to a vibrant entertainment district in the evenings you may hear music from nearby bars and clubs, and the sounds of people enjoying these late night/early morning venues.
Puerto Vallarta is a safe, moderately large, bustling city with plenty of old world Mexican charm, with all the sights, sounds and flavors that come with that. Enjoy daily walks along the Malecon (boardwalk), visit the beach, fine galleries, amazing restaurants, outstanding stage shows and nightspots. You are just steps away from all the excitement.
Construction Notice
Puerto Vallarta has quickly become a popular vacation hot spot and is experiencing a rapid growth to keep up with the demand for rental properties and real estate opportunities. As of late 2018, there has been a noticeable increase in construction areas within the Romantic Zone. Construction usually occurs Monday to Saturday during work hours, and may cause some noise and dust. Construction may include renovations to existing units within a complex, new construction sites and road maintenance – work. Since there are numerous new and existing construction sites or renovations, it is sometimes difficult to get away from the additional noise within your unit during the day.
We encourage our guests to take advantage of the various beaches and the other parts of Puerto Vallarta and surrounding areas. For more suggestions contact our Concierge department.
---
CHECK IN and CHECK OUTS
CHECK IN time for all properties is 3:00pm and CHECK OUT time for all properties is 11:00am. If you require early CHECK IN or late CHECK OUT please contact your PVRPV concierge.
Please note if you require a CHECK IN or CHECK OUT before 8am or after 8pm you will incur an additional charge of $25.00 USD (tax included) or equivalent in Mexican pesos based on the exchange rate of the peso on the date of your payment, which must be paid in cash, and collected by concierge.
Remember that Puerto Vallarta is located in Central Time Zone (same as Mexico City, GMT-6).
You will be issued 1 set of keys for each person noted on the Booking Confirmation.
Important notes:
Cleaning Services: Our Standard Cleaning Services included are based on a minimum rental of 7 days. In the case where your rental is less than the time period indicated or you require additional services the cost per cleaning will be $25.00 *USD (tax included). This will be collected by Concierge on the day of the check in.
Damage insurance: Every client that makes a booking, is now required to pay an additional $35.00 *USD (tax included) which is for a non-refundable damage insurance. The $35.00 non-refundable damage insurance covers damages up to $500.00 *USD. For additional information please refer to our BOOKING CONFIRMATION POLICY.
*USD or equivalent in Mexican pesos based on the exchange rate of the pesos on the date of your payment.
---
Rates
All rates are in USD, exchange rate today is: $ 20.17 MXN per USD
Rates displayed in USD, transaction will be completed the equivalent MXN pesos. Applicable taxes will be added to your total and displayed once your dates are selected.
| Date Range | Nightly Rate | Weekly Rate | Monthly Rate | Minimum Stay |
| --- | --- | --- | --- | --- |
| May 1, 2022 to October 31, 2022 | $ 55.00 USD | $ 375.00 USD | $ 1,295.00 USD | 7 |
| November 1, 2022 to December 19, 2022 | $ 95.00 USD | $ 595.00 USD | $ 2,250.00 USD | 7 |
| December 20, 2022 to January 3, 2023 | $ 135.00 USD | $ 945.00 USD | | 7 |
| January 4, 2023 to April 1, 2023 | $ 95.00 USD | $ 665.00 USD | $ 2,250.00 USD | 7 |
| April 2, 2023 to April 9, 2023 | $ 135.00 USD | $ 945.00 USD | | 7 |
| April 10, 2023 to April 30, 2023 | $ 95.00 USD | $ 595.00 USD | $ 2,250.00 USD | 7 |
| May 1, 2023 to October 31, 2023 | $ 55.00 USD | $ 375.00 USD | $ 1,295.00 USD | 7 |
| November 1, 2023 to December 19, 2023 | $ 95.00 USD | $ 595.00 USD | $ 2,250.00 USD | 7 |
| December 20, 2023 to January 3, 2024 | $ 135.00 USD | $ 945.00 USD | | 7 |
| January 4, 2024 to March 23, 2024 | $ 95.00 USD | $ 665.00 USD | $ 2,250.00 USD | 7 |
| March 24, 2024 to March 31, 2024 | $ 135.00 USD | $ 945.00 USD | | 7 |
| April 1, 2024 to April 30, 2024 | $ 95.00 USD | $ 595.00 USD | $ 2,250.00 USD | 7 |
| May 1, 2024 to October 31, 2024 | $ 55.00 USD | $ 375.00 USD | $ 1,295.00 USD | 7 |
| November 1, 2024 to December 19, 2024 | $ 95.00 USD | $ 595.00 USD | $ 2,250.00 USD | 7 |
| December 20, 2024 to January 3, 2025 | $ 135.00 USD | $ 945.00 USD | | 7 |
Calendar Availability
August 2022
Su
Mo
Tu
We
Th
Fr
Sa
September 2022
Su
Mo
Tu
We
Th
Fr
Sa
October 2022
Su
Mo
Tu
We
Th
Fr
Sa
November 2022
Su
Mo
Tu
We
Th
Fr
Sa
Amenities
Most of our properties are fully equipped. Please check the amenities below
Air Conditioning

Balcony

BBQ Grill

Blender

Ceiling Fans

Coffee Maker

Cooktop

Dryer

Furnished

Gay Friendly

Hair Dryer

Internet Wireless

Iron

Ironing Board

Kitchen

Linens

Microwave

No Kids Allowed

Non Smoking

Oven

Patio/Deck

Pets Not Allowed

Phone

Pool (Heated)

Refrigerator

Restaurants

Safe in Unit

Street Parking

Toaster

Towels

TV

TV (AMAZON FIRESTICK)

TV (SMART TV)

Washer
There is no review for this properties
Property Policy
This property has its own policies, please read carefull
THIS IS A SMOKE FREE PROPERTY
No smoking inside the property, the unit, on the terraces / balconies, at the pool or in the common areas
Smoking is permitted outside the main door / gate

OCCUPANCY POLICY
This is an adults only Building; NO Children under the age of 19
Studio Units - 2 Guests Maximum
1 Bedroom Units - 2 Guests Maximum
2 Bedroom Units - 4 Guests Maximum

VISITOR POLICY
Only guests registered and confirmed in your booking are allowed to occupy the unit
Guests visitors are permitted but are limited to 1 visitor per studio unit and 2 visitors per 2 bedroom unit
Guest visitors must be registered with the property manager (day visitors or overnight visitors)
Guest visitors are NOT permitted to use the pool or common area without permission from the property manager
Guest visitors that are not-registered may attend the evening cocktail hour, charges for cocktails will apply

PET POLICY
No Pets Allowed in our Studio units. Due to their compact and efficient design, pets will not be allowed to stay in these studio units.

NOISE RESTRICTIONS
NO HIGH VOLUME or NOISE AFTER 11:00 PM: Including Radios, Stereos, Music, Televisions inside of the units. No noise in common areas at 11PM.
When entering and exiting the complex after 11PM remember other guests may be sleeping.
Please be respectful of ALL guests.

POOL POLICY
The use of the POOL is at your own RISK. The pool is NOT supervised by a pool attendant or lifeguard.
NO Children are allowed in the pool unattended.
Pool is for GUEST USE, should you wish to request to have a visitor use the pool, permission must be requested 24 hours prior to using the pool.
NO glassware in the pool or around the pool. PLASTIC glasses and stemware only.
NO Pool Parties
NO loud music or music played on portable sound systems at the pool or in the common areas. The pool area does have a music system that will play lounge style music throughout the day.
POOL HOURS 9AM to 10PM (promptly)
NO Pets allowed in the pool
NO Running around the pool area
NO Urinating in the pool. Please use the washrooms in the common area.
PLEASE SHOWER or RINSE prior to using the pool. Showers are located on the same level as the pool

COMMON AREA RULES
The BBQ is for the use of all guests. Please check with the on-site property manager for assistance or booking.
PLEASE clean after using the BBQ, dining area and/or common areas once you are complete. Pick up your trash. If the area is not cleaned, there will be a fee of $500 pesos to have the maid clean.
Please be respectful of all guests. If you wish to use your phone, laptop and/or personal device for phone calls etc. USE YOUR HEADPHONES.
Please leave the washrooms and/or pool showers clean and tidy. Do not leave towels in the common area.
---
Inside security cameras
Some properties utilize cameras to improve security for owners, guests and staff. These cameras are generally located in areas where one would not normally have a reasonable expectation of privacy. This might include common hallways, pool and other entertainment spaces, and common laundry rooms to name some examples..
Security cameras inside vacation rentals are discouraged and considered off-limits for areas such as bedrooms, bathrooms and other areas that would be considered private.
Any cameras that are present are installed either by the building administration or unit owner and are not the property of PVRPV.
Building or Complex specific regulations for COVID19
Due to unforeseen circumstances, when or if deemed necessary to maintain healthy and safety protocols for COVID19, the building administration may introduce new guidelines for renters or common areas within the complex. Although PVRPV and team will make every effort to advise our guests of changes, we may not always be made aware of last minute changes or government guideline changes for a specific building. We cannot be liable or held responsible for these changes.
Cleaning & Maintenance
New sanitization processes and protocols have been implemented in an effort to combat COVID19. Our supplies and cleaning products are industry standards and do not pose any environmental concerns for the occupants of the unit or space.
In an effort, to maintain safe social distances for you and our team members, we will ask you to vacate your rental unit while they perform their cleaning duties. Should a major maintenance issue arise that will require our maintenance team to be in your space for a lengthy period of time, you maybe asked to leave while they complete their task. Please keep in mind, we will always do our best to accommodate a specific time or date you wish to have your rental unit cleaned, but may not be able to guarantee it. Our customer service team is here to help you facilitate any special requests you may have for cleaning or maintenance scheduling.
Cancellation Policy
At this time we do not have a specific COVID19 cancellation policy for future reservations. Our Booking Confirmation Policy would apply to all future bookings. For more details: Click here.
Puerto Vallarta is receiving guests. Some countries may offer travel advisories regarding future travel but no travel ban has been implemented. Should government changes be introduced, a policy will be implemented for those guests impacted by changes.
Date Change - Rescheduling Fees Waived
Should you make a future booking or have a future booking and at the time you are schedule to travel you are unable to travel due to COVID19 we will work with guests and property owners to allow a date changes. Currently all reservation / booking date change fees are being waived for guests with travel impacted by COVID19. ALL date changes are subject to availability and per night rate increases. The number of nights of the original booking will be the number of nights granted for a date change, additional nights will be subject to the nightly rate.
COVID19 Testing & Traveling
Canadian Government & the United States CDC require proof of testing prior to boarding an aircraft destined for Canada or the USA. Rest assured, there are many clinics and possibilities for testing. COVID19 Testing is much easier and simpler than you may think. For more information about testing and where to get tested: click here